Works of art tell a story or evoke an emotion. When planning a scene, ask yourself "What am I trying to communicate?"

The many elements in a scene design work together to create ambiance and tell your story. I call them layers because like a wedding cake, each layer is distinct but integral to the whole, and if you leave out too many, your cake is pretty flat. Starting with the broadest (first layer) and working toward the most specific (the icing?):
Location: Climate, season, city/country, lakeside/seaside/desert--shown through landscaping, views through windows, and reinforced through all the other layers.

Architectural Era: Victorian, Tudor, Bauhaus, Gothic--this sets the earliest possible date for your scene and often suggests a location as well.

Architectural Style: cottage, farmhouse, townhouse, mansion, tract home, apartment each have their own elements of style.

Building Materials/resources: gleaming marble and splintered wood say two very different things about a house.

Condition: pristine new, lived in, shabby, decrepit

Atmosphere: warm and cozy, cool and elegant, spooky

Colors: Briefly, cool colors like blue and green are calming; warm colors like red, yellow, and orange are lively and stimulating. The bright primary hues of red, yellow, and blue are simple and childlike, while subdued colors are more sophisticated. Dark colors low in the room (flooring, low furniture) tend to make the room more solid and "grounded." Dark colors suspended high in a light colored room (ceiling, pictures) seem disconnected and floating. Read more about color basics and color psychology.

Texture: Smooth, shiny surfaces like marble, satin, gleaming wood, and mink evoke wealth and formality; rough, shaggy, matte textures like stucco, burlap, and fleece are more casual.

Line: Horizontal lines (like low couches and wainscoting) are restful and calm--but use too much of this and your room can fall asleep. Vertical lines (tall windows and furniture, contrasting trim around doors) are more alert, but can still be very formal. Lots of tall, skinny elements might make your room seem uptight. Diagonal lines are lively and casual; too many diagonals can make a room chaotic and disturbing. Curves are romantic and sensual but can lack definition. Use a variety of lines, heights and shapes in the room to give it life. And remember repetition; just one rounded element might seem out of place, but an arched door, round mirror, and oval rug can echo each other to give a sense of continuity.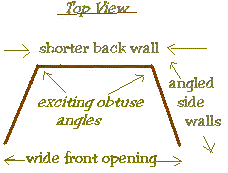 And on a related note, let me just say Boxes Are Boring. Rectangles are static and can be difficult to decorate. Try designing your next room to open toward the viewer by making the back wall shorter than the front wall, like the sketch. This theatrical scene designer's trick gives a sense of depth and drama, drawing the viewer into the room. It also displays the side walls so every part of your design is visible and working for you. If you're using a pre-made box, you can insert false side walls, leaving a triangular space between inner and outer walls. Put a window in the inner wall, and a scene on the inside of the outer wall to create a view with depth. Add a light between the walls and above the window to illuminate the view. If you've got to stick with a rectangular box, alter or disguise at least one rear corner with a fireplace, tall cabinet, window, door, drape, pillar, built-in corner unit, sculpture, or other tall item.
Balance: Symmetrical rooms are formal, calm, dignified. Achieve this look by centering a main element in the room and balancing similar items on the sides--for instance, a fireplace centered on the back wall, with a chair on either side. The side items don't have to be identical, but should have approximately equal weight and interest. Asymmetrical rooms are casual, warm, lively. Place a main element off to one side, and orient the other elements toward that one. A corner fireplace faced by a cozy chair is a good example.

Décor: wall, floor, and window coverings; paint, wallpaper, paneling? Wall-to-wall shag carpeting or a tile floor? Gingham curtains or velvet drapes? This helps to identify the type of room (living room, kitchen) as well as giving clues about date, location, and personality of the inhabitant.

Furnishings: should clearly identify the type of room, and give more clues about date, location, and personality of the inhabitant.

Accessories: artwork, books/magazines, bric-a-brac, knick-knacks, and chatchkas that tell you every thing you need to know about the inhabitant and the world in which s/he lives, including clues to age, hobbies, sloppiness, taste

Repetition: Use repeating colors and motifs to add interest to your rooms. Use little bits of a striking accent color (persimmon, perhaps), distinctive shape (polka dots?), or motif (bears, roses) several times in the room. Odd numbered repetitions work best (lively and asymmetrical), especially 3 or 5--too many repetitions are redundant and clutter the scene. The repeating motifs don't have to be identical; a vase of roses, a painting of roses, and roses in the carpet design reinforce each other.

Inhabitants: If you include dolls, make sure they represent the people for whom you've created the room, and they're of quality similar to the rest of the room.