Jan 2
Woke up horribly early thinking about this scene. After tossing and turning for a while, got up and did some free associating. I wrote down every descriptive word that came up, then sorted it into my design categories (see my design page)
Location: bridge over a canal in Venice
Era: 1920s
Style: exotic, glamorous, hedonistic, grotesque, decadent, rococo, baroque, seraglio; AMADEUS, Bakst, Beardsley, Erté
Building materials/resources: pink marble, gray stone, terrazzo; feathers, lanterns, masks, pearls, diamonds, rubies, spangles, glitz, velvet, Silk, satin
Condition: Confetti--new & mud-trod; gilt; gilded youth; upper class
Atmosphere: Hijinx, Poses interact with architecture, Seraglio, pranks, Sex , Drunk, Jostle, Happy, Grotesque, Hedonistic, Decadent, Intrigue, Mystery, Festive , Heat
Colors: black & white, jewel tones, silver, gold, gilt, scarlet
Texture: stone, marble, terrazzo; ornately carved and gilded; silk, satin, velvet
Line: horizontal and diagonals, with the curve of the bridge echoed by the curve of the proscenium, diamond shapes
Balance: symmetrical and a bit formal
Décor: Gondola, Diamond shapes, Maxfield Parrish twilight sky, Skull, Spangles, glitz, Terrazzo, Confetti--new & mud-trod
Furnishings: bridge, steps, buildings, gondola
Accessories: Lanterns—big round ones, portrait, Torches, turbaned Moorish torch bearers
Repetition: Masks/faces. Scarlet and ruby accents, diamond shapes, black and white, gold leaf
Inhabitants:Bird beak, Moor, Cat mask, Coquette, MASKS, Monk, Monkey, Robes, swan headdress, Tricorne Hats, Poses interact with architecture, Drunk, Upper class, gilded Youth, Harlequin, Skull, turbaned Moorish torch bearers

So my working title is now The Terazzo Palazzo, and I combined a lot of the ideas above into this description: A fairly shallow wall-hung setting portrays the front of a pale gray stone Rococo palazzo. Steps leading up from a gondola are filled with beautiful, young, rich people in exotic costume. Blackamoor torches flank the steps; round, brilliantly colored Chinese lanterns cascade somewhere or other. The sky is Maxfield Parrish twilight. Terrazzo on steps and landing and maybe front of building portrays fantastic birds and beasts. Black and white harlequin banners float in the breeze off the canal.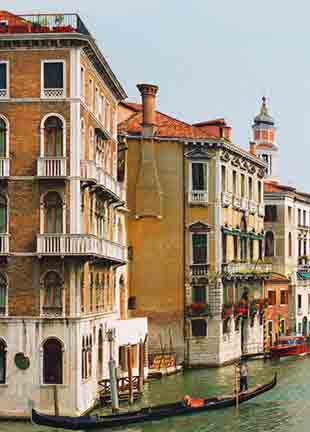 Next I researched several of the brainstorming
ideas online, which turned up several new ideas
to add to my list and concept.